This action allows to write a custom message in the event log of the target computer.
You can set the following options:
The name of the event log (by default "Application"). Or a specific event log for easier access to records from Event Viewer.
The name of the source to the origin of the writting in the event viewer.
The type of event: Information, Warning, Error, Success audit, Failure audit.
Writing a custom message to the specified log event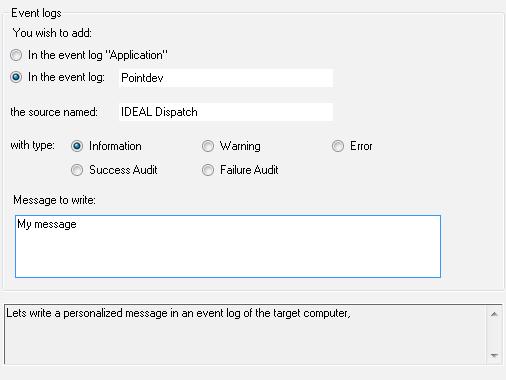 NOTICE:
For a successful writing int eh Event Viewer logs, the specified source (IDEAL Dispatch here), must not be redondant, ie that source should not already be defined for another event log ("Application", or another another...)
A source can easily be located and removed if necessary, from the Registry under the key: HKLM\SYSTEM\CurrentControlSet\Services\EventLog\xxx
After removing a possible source, relative writings will still be available from Event logs, but will be "overloaded" by garbage.