IDEAL Administration reports all the essential information that you need about your Active Directory (AD) infrastructure and objects. Our administration tool allows to generate more than 50 predefined reports that fetch vital data such as users real last logon times, inactive AD users, NTFS permissions, recently created, modified or deleted user accounts, distribution lists, security groups and their members, and GPOs.
IDEAL Administration allows to quickly generate HTML and CSV reports (2 minutes) from your Active Directory domains.
These reports can be shared, printed or used under MS Excel, MS Access or any other software.
First, download the free 30 day version of our software if you have not installed it yet: Download IDEAL Administration.

Once installed, just execute it under a domain admin account.
On the right view select Active Directory Network tab, and then Reporting.

Select Create a report button, and the report of your choice. And let us guide you!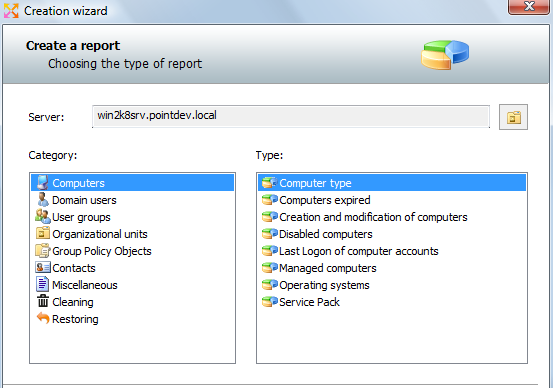 The "Reporting" tab allows through the creation of reports to view real-time information about your Active Directory: Organizational units, User groups, Users, Computers, Contacts, Printers, GPOs.
You can also select the Active Directory properties to export for each of the object types to customize your reports. These properties are also exported when generating the CSV file and can be used in MS Excel or MS Access for example.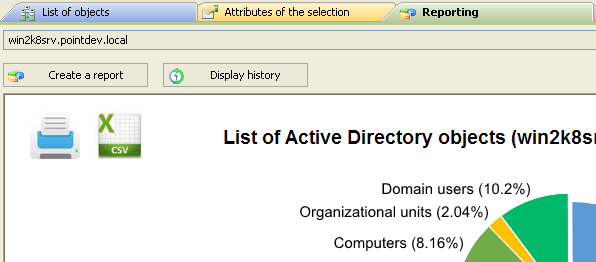 Watch Demonstration Video on YouTube (2:18)
You can also trough the creation of these reports, clean up your Active Directory (obsolete objects).
The reports are generated in HTML and CSV to be printed and shared by IT administrators. You also have the option to schedule their creation so that reports are created automatically.
The reports can be stored in the history to reopen at anytime a previous state of your Active Directory.
Some examples of reports (40 predefined reports):
What are the different operating systems in my Active Directory domain?
What are the users who do not open session for more than 90 days?
What are the Active Directory domain objects that were recently removed?
Which user groups containing no member?
List of reports created by IDEAL Administration:
COMPUTERS

Account expired
Computer type
Creation and modification of computers
Disabled accounts
Last logon of computer accounts
Managed computers
Operating systems
Service Pack
CONTACTS

Contacts not member of a group
Contacts with manager
Creation and modification of contacts

PRINTERS

Creation and modification of printers
Managed Printers
DOMAIN USERS

Accounts expired
Creation and modification of accounts
Disabled accounts
Last failed password attempt
Last logon
Locked accounts
Never expiring passwords
Passwords expiration status
Soon-to-expire user passwords
Users not member of a group
Users password age
Users with logon script
Users with manager
Users with smart card
GROUP POLICY OBJECTS

Creation and modification of GPO
GPO status
MISCELLANEOUS

List of Active Directory objects
Recently deleted objects
ORGANIZATIONAL UNITS

Creation and modification of OUs
Empty organizational units
Managed organizational units
Organizational units content types
GPO linked OUs
USER GROUPS

Creation and modification of groups
Empty groups
Group type
Managed groups
And the various reports cleaning (read more).
Example: To get a view of the operating systems used on your AD domain:
Click on the "Create a report" button from the "Active Directory Network" \ "Reporting" tab..




Select the category "Computers", then the type of report "Operating systems" and click "Next".


Enter the title, the description and the destination folder of the report. You can choose to keep this report in the history to access it later. You can also choose to open the report generated at the end of the processing. Finally an option allows you to schedule the generation of this type of report by creating a scheduled task.


Click "Generate" to query Active Directory and create the report.


Once the report is opened, you can print it by clicking the button provided for that purpose. You can also deploy categories (eg Windows XP, Windows 8, ...) to see the detail and the computer list or click the "Display all" to deploy all the categories.