First, download the free 30 day version of our software if you have not installed it yet: Download IDEAL Administration.

Once installed, just execute it under a domain admin account.
On the right view select Active Directory Network tab, and then Reporting.

Select Create a report button, and Cleaning reports.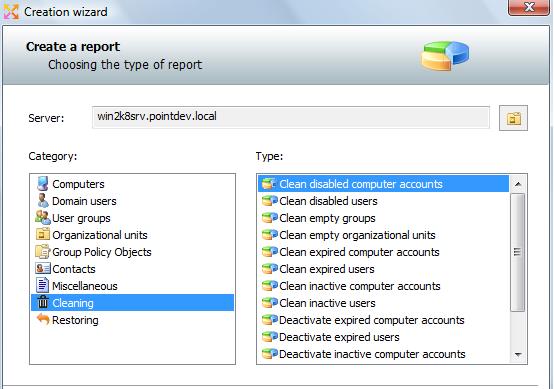 The "Reporting" tab allows through the creation of cleaning reports to reset SID History Attributes of your Active Directory users & groups.
List of cleaning reports:
Computers

Clean disabled computer accounts
Clean expired computer accounts
Clean inactive computer accounts
Groups

Clean empty groups
Resetting the SID History
Organizational units

Clean empty organizational units
Users

Clean disabled users
Clean inactive users
Resetting the SID History
Example: To delete inactive computer accounts
Click on the "Create a report" button from the "Reporting" tab..
Select the category "Cleaning", then the type of report "Clean inactive computer accounts" and click "Next".
Then select the number of days of inactivity.
Enter the title, the description and the destination folder of the report. You can choose to keep this report in the history to access it later. You can also choose to open the report generated at the end of the processing.
Click "Generate" to query Active Directory.
Check in the list the "Remove" box for all objects you want to remove from the Active Directory and click Remove button to delete these objects and create the report.
Once the report is opened, you can print it by clicking the button provided for that purpose. You can also deploy categories to see the detail and the computer list or click the "Display all" to deploy all the categories.