A system administrator can use shadow session mode to view and remotely manage an active RDP session for any user. This mode has been supported almost since the early versions of Microsoft Terminal Server and was unexpectedly removed from Windows Server 2012 (due to the transfer of the RDP stack from kernel to user mode). Microsoft has decided to revert to the Remote Desktop Shadowing (Shadow Connection) feature on Windows 2012 R2 and Windows 8.1. RDS Shadow also works in the most recent versions of the operating system: Windows Server 2016, Windows Server 2019, Windows Server 2022, Windows 10. and Windows 11.
Our IDEAL Administration and IDEAL Remote software allows to manage the Shadow Remote Control.
You have two options for this:
1. Right click on your RDP server, Remote Control / Deployment, Shadow Remote Desktop, Select the desired RDP session. This solution displays the first 25 sessions present on your RDP server.

Important: The user will be asked to authorize your connection.
2. Right click on your RDP server, Print and Sharing Center, Terminal Services Sessions tab. All RDP sessions present on the server are displayed. You can search for a user name using the Action, Search menu.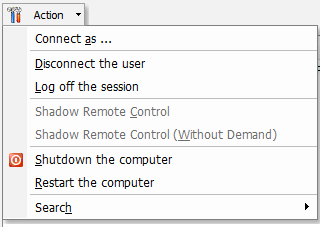 Two Shadow modes are possible: With connection authorization request and Without authorization request.
Important: To use the mode without authorization request, you will need to set up a GPO. To do this, enable Group Policy by going to gpedit.msc, then Local Computer Policy, Computer Configuration, Administrative Templates, Windows Components, Remote Desktop Services, Remote Desktop Session Host, Connections and enable the "Define rules for remote control of Remote Desktop Services user sessions" setting and select the "Full control without user authorization" option from the drop-down list.