When creating/editing an alert, the "alert assistant" tools enables to configure the installation properties of an alert.
You can configure these settings to reduce the traffic generated by the installations on your network, if necessary.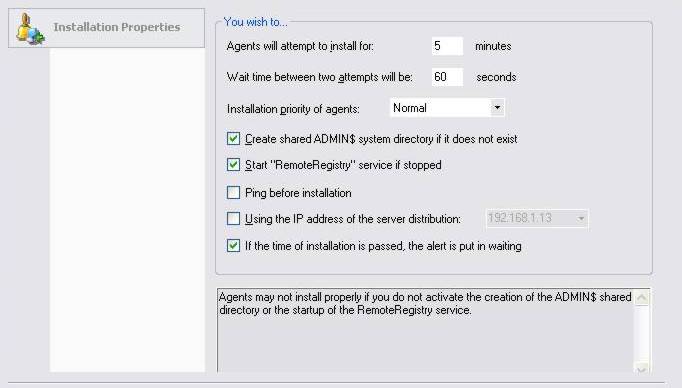 Agents will attempt to install for :
This option determines the maximum period during which IDEAL Alerter Server will try to install the alert agent on a workstation. This period is in minutes and can be set between 10 and 9999. IDEAL Alerter Server uses this option to try a new installation of the alert agent if there is a failure, making it possible to manage workstations that have not been started up, those which are being started up and those which have not yet been connected to the network (nomadic workstations or others). By default, this period is 5 minutes.
Wait time between two attempts will be :
Sets the period in seconds between two connection attempts on a workstation where an installation failure has occurred. By default, this period is 60 seconds.
Process priority in running alert agent installation :
Each installation is run by a separate process. This makes it possible to carry out all the installations simultaneously. You have the option to set the priority the system gives the processes: Low, Normal or High. If the installation must be carried out on a large number of workstations, we advise you to select a Low priority, allowing you to place the minimum load on the system. By default, the priority is Normal.
Create the shared administrative directory ADMIN$ if absent :
IDEAL Alerter Server installs the Windows IAlerterAgent service agents on client workstations using the shared administrative directory ADMIN$. If this does not exist on the workstations, the agent cannot be installed properly. Authorizing IDEAL Alerter Server to create the administrative directory ADMIN$ means the installation can go
smoothly. By default, this option is on.
Start up the RemoteRegistry service if stopped :
IDEAL Alerter Server may need to access client workstation registries. To do this, the Windows RemoteRegistry service must be started up on these workstations. Authorizing IDEAL Alerter Server to start up this service if it is stopped or suspended prevents it from being impossible for certain agent installations to be carried out properly. By default, this option is on.
Ping before installation :
Before trying to access a client PC's registry or installing agents, IDEAL Alerter Server carries out a "ping" aimed at the client PCs. This allows faster processing if a target machine is not available. However, you must authorize an incoming echo request in the ICMP parameters of the firewall.
Use the IP address of the alert server :
Alert agents contact the alert server using the selected IP address. Useful sometimes, when the alert server and target computers are in remote domains.
If the installation deadline is exceeded, put the alert in waiting :
When an alert is scheduled and the installation phase has failed because of connection problems with the target workstation, the alert is placed in waiting if an alert agent is already installed on the target workstation