This example describes the procedure to use in order to forbid on one or more target computers, the running of the "Windows Live Messenger" software.
This software will be automatically closed after a few seconds, as soon as IDEAL Alerter will detect it has been launched.
This topic can also be used as a starting point to block other programs (Firefox, Internet Explorer, ICQ ...) or junk programs. The approach will be then relatively similar, only the name of the process to monitor will have to be modified.
Create a new alert, named for example "Block Windows Live Messenger"".
Add the following event to be monitored :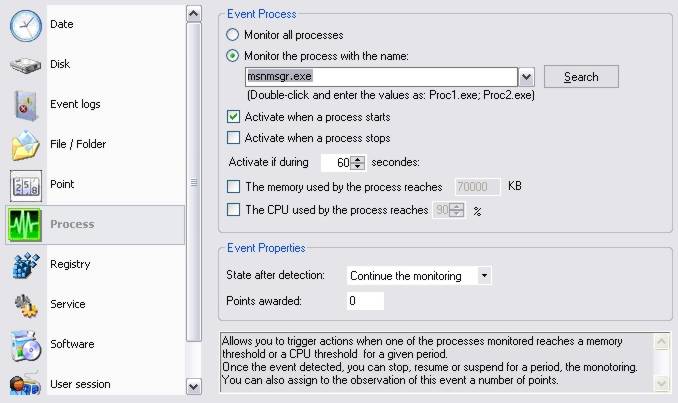 The "msnmsgr.exe" process matches here the "Windows Live Messenger" application.
The state after detection "Continue the observation", enables to infinitely pursue the monitoring of this process.
Add the following action to be performed :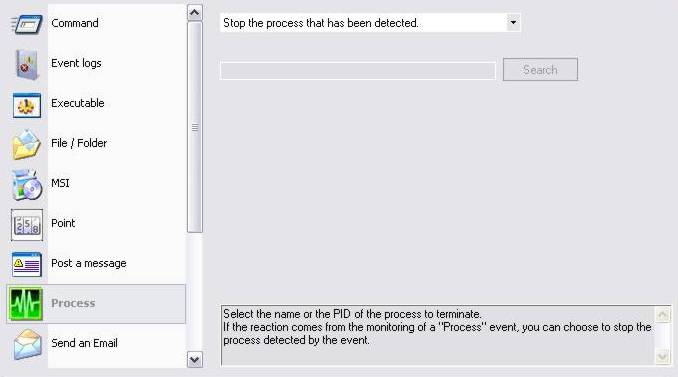 The option "Stop the process that has been detected" allows to automatically stop the "msnmsgr.exe" process, that has been defined on the event to monitor. Another option would have been to select in the drop-down list "Enter the name of the process to be stopped", then enter "msnmsgr.exe".
Select the target computers on which the alert must be applied.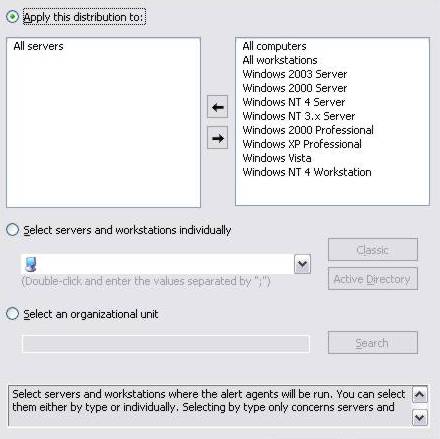 Confirm the alert creation by clicking on the "OK" button.